Soaring to become an aviation powerhouse.

Hosting a Boeing Avionics Maintenance, Repair, and Overhaul (MRO) center, Gyeongsangbuk-do is growing as an Asian hub for the avionics industry.
Investment Conditions
Designated as a special avionics industry region (Nov. 2010)
Boeing decides to establish an avionics MRO center in Yeongcheon (Sept. 2012)
Korea Institute of Industrial Technology opens the Avionics System Technology Center (June 2013)
Avionics MRO center completed (May 2015)
Creating Aero Techno Valley, centered on an avionics testing and evaluation center.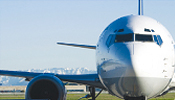 Promotion Prospects
Creating Aero Techno Valley

Promoting the creation of an avionics-specific industrial complex and Aero Techno Valley towards emerging as a global hub for avionics technology with a foundation in avionics testing and evaluation.
담당부서 :

Gyeongsangbuk-do Provincial Gove
전화번호 :

054-880-4614