Industrial Infrastructure and Workforces
A better environment for investment!

Blessed with an advantageous natural topography and equipped with world-class infrastructure and cutting-edge technology, Gyeongsangbuk-do has been leading the Korean economy over the past half-century, particularly with flouring IT and steel industries in Gumi and Pohang, respectively. The province offers an optimal environment for successful investment.
Extensive Networks of Transportation and Logistics Connected Everywhere
Rail network
KTX in service from Seoul to Gimcheon/Gumi (80 min), Daegu (100 min), Singyeongju (115 min), and Pohang (120 min)
Jungang Line given an additional track; Donghae Jungbu and Jungbu Naeryuk Lines newly added
Roads
Eight expressways connected to all parts of South Korea
A radiating web of 20 national roads and 49 local roads
Airports
Daegu International Airport (17 international routes to 3 countries) and Pohang Airport (domestic routes only)
Incheon International Airport within 30 min by flight from Daegu International Airport (two flights per day)
Ports
Capacity: 55 vessels (38 at Sinhang Port; 10 at Guhang Port; and 7 at Yeongilman Port)
Four ports for international container vessels all within an hour away from one another (Busan Gukje, Busan, Ulsan, and Masan Ports)
Logistics infrastructure
Yeongnam Inland Cargo Base (Chilgok): Capable of handling 3.57 million t of general cargoes and 330,000 TEB of containers per year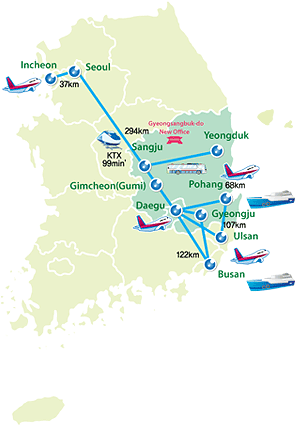 Excellent Living Conditions and Diverse Tourism Resources and Activities
A pleasant living environment
Amenities: Well-equipped living infrastructure featuring financial institutions, retail establishments, public service venues, etc.
Education: Home to some of Korea's most prestigious universities (POSTECH, Kyungpook National University, etc.) and an international school (Daegu)
Medical care: 19 general hospitals and 2,600 clinics and hospitals
Natural environment: Abundance of parks and green spaces
Opportunities for tourism, culture, and activities
Confucian legacy: Hahoe Folk Village in Andong, Dosanseowon Confucian Academy and Seonbichon Village in Yeongju, etc.
Silla legacy: Bulguksa Buddhist Temple, Yangdong Village, Bomun Tourism Complex, etc. all in Gyeongju
Gaya legacy: Daegaya Culture Valley, Tumulus Exhibition Hall, etc. in Goryeong
Abundance of Skilled Workers and Stable Labor–Management Relations
Abundance of workforces
The 48 universities and colleges in the Daegu-Gyeongbuk region together produce 60,000 skilled graduates who are ready to join the workforce every year, making the region the second most productive region in terms of workforce development next to Seoul-Gyeonggi.
Home to 51 specialized vocational high schools producing graduates who are capable of working in the field upon graduation
Readily available talented engineers from universities: POSTECH (new materials), Kyungpook National University (electronics), Keimyung University (automobiles), Daegu Haany University (traditional medicine), Yeungnam University (machinery and textiles), DGIST, etc.
Advanced R&D infrastructure
18 public research institutes and centers providing R&D support for businesses, 42 university-affiliated labs, and corporate research labs
An extensive R&D infrastructure encompassing industries, academia, and public and governmental organizations
Stable labor–management relations and business-friendly services
Labor–management relations kept stable since the Labor–Management Peace Declaration of 2007
Administrative services intended to minimize obstacles to business: Visiting Program, Happy Monitoring, etc.

Named as the most business-friendly region in Korea (by the Korea Chamber of Commerce, 2013)
담당부서 :

Gyeongsangbuk-do Provincial Gove
전화번호 :

054-880-4614