Gyeongbuk emerging as a new leader of global biotechnology

Gyeongbuk awaits international investors to invest in cutting-edge biotechnology R&D facilities, specialized industrial clusters, and expansive industrial infrastructure for the province.
Impetus behind the Growth of Biotechnology and Vaccine Industries
National Vaccine Industry Cluster established in Andong:

KRW 102.9 billion invested in the establishment of an animal cell testing support center (to serve as a contract manufacturing organization for vaccine production)

A medical mold R&BD base established in Yeongcheon:

KRW 31.9 billion invested in equipment construction, technological development, commercialization support, etc.

Medical textile fusion material industry project (Gyeongsan):

KRW 45 billion to be invested in the creation of MedicalTex Plaza

Laying the foundation for improving the reliability and quality of ocular lenses (Gyeongsan):

KRW 21.2 billion to be invested in the creation of a convergence technology center, equipment construction, etc.
Andong Bio-Industry Valley
Gyeongbuk Bio-Industry Complex

Location: Pungsan-eup, Andong (941,000 ㎡)
Tenant industries: Vaccine, bio-materials, food, electronics, etc.

Bio-Venture Plaza

Location: Within Gyeongbuk Bio-Industry Complex (land: 27,000 ㎡; buildings: 6,000 ㎡)
Main features: Good Manufacturing Practice (GMP)-certified facilities and equipment as well as apartment-type factories producing health supplements

Gyeongbuk Institute for Bio-Industry

Location: Songcheon-dong, Andong (land: 33,000 ㎡; buildings: 8,000 ㎡)
40 tenant businesses employing 150+ employees together
Areas of research: Plant-based biotechnology, functional foods and health supplements, biotechnology, etc.

Andong Animal Cell Testing Support Center

Location: Pungsam-eup, Andong (within the Bio-Industry Valley)
Main function: To organize and support clinical trials on vaccines before they are taken onto the global market
※ To be completed in 2019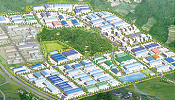 Pohang Next-Generation Bio-Industry Valley
POSTECH Biotech Center

Location: Pohang University of Science and Technology (POSTECH)
Features: Biotech Center, Life Science Building, Chemistry Building
Areas of research: Molecular pharmaceuticals, nano- and plant-based biotechnology
Partnered with specialized biotechnology institutes and companies at home and abroad

Pohang Techno Park

Location: Jigok-dong, Pohang
Size: 187,000 ㎡ for land, 64,000 ㎡ combined for buildings
59 tenant businesses employing 450+ employees together
Main areas of focus: Collaborative R&D projects, start-up incubation and support, training and education
Bioinformatics Construction Center: Specializing in testing the efficacy of bio-materials, equipment construction, and business support

Gyeongbuk New Drug Support Center

Location: POSTECH, Pohang
Size: Five floors (one under the ground), 11,550 ㎡ in total floor area
Main functions: Collaborative R&D projects, work spaces for pharmaceutical companies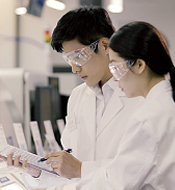 K-Beauty Convergence Cluster in Gyeongsan
Project duration: Five years (2015–2019)
Location: Yugok-dong, Gyeongsan
Global Cosmetic Business Center: Center of industrial infrastructure

Size: 8,508 ㎡ in land, 4,600 ㎡ in total floor area (four floors, with one under the ground)
Project budget: KRW 20 billion (KRW 10 billion from the national government; KRW 3 billion from the provincial government; KRW 7 billion from the municipal government)
To feature cosmetic product testbeds, support joint R&D, and provide business support

Global Cosmetic Business Valley: An industrial complex specializing in cosmetics

40 tenant businesses, over a total area of 1,650,000 ㎡
Boosting global prospects of tenant businesses by providing an integrated K-beauty platform and marketing support
Major Investors
담당부서 :

Gyeongsangbuk-do Provincial Gove
전화번호 :

054-880-4614