Home
Business > Industry Economy > Science & Technology
Science & Technology
Gyeongsangbuk-do is focusing on its aim of becoming known as "Science and Technology Gyeongsangbuk-do" by integrating its traditional industries with R&D innovative systems, which create cutting-edge technologies and nurtures strategic new high-technology industries.
Purposes of Establishment
"Gyeongbuk Techno-Park" and "Pohang Techno-Park" Science and Technology Innovation bases have been built.
Local industries are being encouraged to start joint ventures with universities, research centers, and institutes as well as governmental organizations.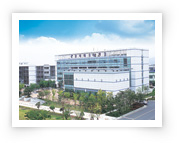 Strong Points of Gyeongsangbuk-do's Growth
Southwestern area
- IT industries (appliances, electronics, and information-related machinery)
The largest electronic industry complex in South Korea is the center of the further development of the IT industry.
Cutting-edge mobile industry support centers, Gyeongbuk TP, and Gyeongbuk High-Tech Village are currently in operation.
The IT Industry Belt of Gumi, Chilgok, and Gyeongsan is scheduled to be built.
East Sea coast area
- NT industries (steel and new materials)
The NT industry is working cooperatively with excellent research talents and competitive companies in the field of steel and new component industries in the Pohang area.
Pohang TP, Technology Innovation Center of Metallic New Materials, and Pohang Intelligent Robot Institutes were established.
Gyeongsangbuk-do is nurturing the NT industry by facilitating the steel industry in Pohang, and a new metallurgy material technology.
Northern area
- BT industries (the traditional Oriental medicine, agriculture, and marine sectors)
Specialized and medicinal crops will be cultivated in the northern area of Gyeongsangbuk-do to help develop the BT industries of the traditional Oriental medicine, agriculture, and marine sectors.
Traditional Oriental Medicine Resources Development Center, Gyeongsangbuk-do Bio-industry Institue, and Gyeongsangbuk-do Marine Science Research Complex are operational.
담당부서 :

경상북도청
전화번호 :

1522-0120
업데이트 날짜 :

2021.01.26